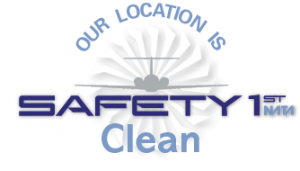 Last updated September 1, 2020
To Our Valued Base Operations Customers:
The well-being of our customers and employees is at the forefront of all decisions we make as we navigate through this unprecedented event. Continuing to provide essential services to our customers while following recommended guidance to mitigate health risks to all is a delicate balancing act. To ensure your safety and ours, the following changes to our operations are currently in place.
NATA Safety 1st Clean Certification
Base Operations at Page Field has achieved the Safety 1st Clean Certification, produced by the National Air Transportation Association with guidance on facility cleaning, disinfecting and facility operations with the goal of safeguarding FBO team members, clients, corporate assets and the general public. This standard represents industry best practices and government agency guidance. For more information about Safety 1st Clean, visit https://www.nata.aero/safety-1st/clean.
Base Operations Hours
Effective May 28, 2020, FBO hours have expanded to 0700-1900 daily. Beginning September 1, 2020, after-hours service by request will be resumed for all customers. Please note that the airport will remain open as normal.
Customer Service Interactions at Base Operations
In order to maintain the recommended guidelines for social distancing, we have installed stanchions at the customer service desk. Please respect the barrier put in place to provide proper distancing from one another. We also ask unless you are arriving or departing through the terminal, to please refrain from entering Base Operations.
Vehicle Valet Service
Vehicle valet service for personal and rental vehicles has been temporarily suspended. However, you may still drive your vehicle(s) to/from your aircraft under standard escort procedures.
Baggage Handling
We have resumed handling of customer belongings and luggage, with the use of masks and gloves. Luggage carts are available and are being disinfected after each use.
More Information
We are committed to providing a safe environment for our customers and employees. Find out more about what we are doing here.
We apologize for any inconvenience these new hours and procedures may cause. Please understand they are temporary and we look forward to getting back to normal as quickly as possible. We wish you all the best as we go through this together. Please stay well.
Still have questions? Contact us: (239) 590-6600 or send us an email.