Your business and general aviation gateway to Fort Myers, Sanibel & Captiva, Fort Myers Beach, Cape Coral, Pine Island, Lehigh Acres, Estero, Bonita Springs and beyond.




When it comes to general aviation in Southwest Florida, Base Operations at Page Field (KFMY) is your destination for a "Wheels Down, Feet Up" experience. Located just minutes from Fort Myers beaches, businesses and major roadways, pilots and passengers can seamlessly go from Zulu time to Island time – in no time. Combine that convenience with award-winning service and a modern feature-filled facility, and you'll see for yourself why pilots have named Base Operations at Page Field (KFMY) one of the top FBOs in North America.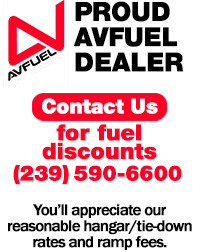 Current Retail Fuel Prices
(Subject to change. For the most updated fuel pricing and discounts, please contact us at 239-590-6600.)
You may find a detailed list of our current Rates & Fees here.
Featured Customer Reviews
"I have been using this FBO for several years. The service is still top notch! The linemen are knowledgeable and helpful, front desk girls are great, tower folks are friendly, and beautiful runways all for a very reasonable price."
"Line staff, front desk staff all excellent. Great fuel price, nice building, couldn't be any better."
"Arrived in our C182M/1969 and our experience was totally professional in every respect. I have been here in a twinjet, but this was my first trip in my own airplane with my favorite wife copilot! Cheryl had our crew car waiting, easy sign up, cheap self-fuel on the south side of the airport … "